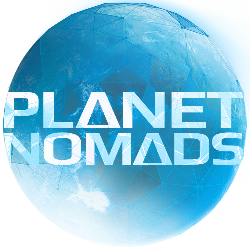 Welcome to the Official Planet Nomads Wiki
The
Planet Nomads
wiki is written and maintained by the community.
Please feel free to contribute by creating new articles or expanding on existing ones.
Welcome to the Official Planet Nomads Wiki
Welcome to the Planet Nomads Wiki
Planet Nomads is a game that is being created and developed by Craneballs. Planet Nomads is a sci-fi sandbox game of creation and survival on procedurally generated planets. In Planet Nomads you build useful things to earn a slim chance of staying alive as you uncover the mysteries of procedurally generated alien planets. You used up all your luck surviving a crash-landing on one such planet. From now on it's all about wit and sheer determination. Your best shot is building a spaceship powerful enough to get you out of this mess.
It was released on Steam Early Access on May 25, 2017.
Wiki Community
We are always looking for more contributors! If you're looking to help, please be bold and start editing! Remember to check out our help wiki if you're new to wikis. Areas most in need of help are...
Remember, this wiki would be nothing without contributions from people like you!